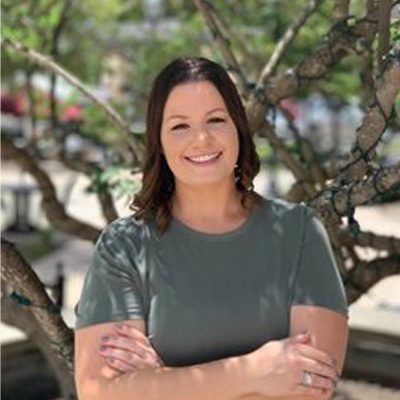 Owner and Chiropractor
Carmen Doerr-Nauth D.C.
Dr. Carmen was born in Alaska, but grew up in Wisconsin and Florida. When she is not in the office, Dr. Carmen enjoys spending time with her husband, Danny, and their 2 fur children, Rocky and Nala. Traveling, volunteering, reading, and watching HGTV home improvement shows are some of her favorite activities.
Dr. Carmen was first introduced to Chiropractic after she was involved in a car accident in 2011. She put off going until she'd had enough of her daily headaches that had been going on for almost a year. These headaches were interfering with her daily life and job in the event industry. After being under consistent chiropractic care, her headaches eventually decreased and she was able to maintain her health by getting regular check-ups. As time went on and she progressed in her career, Dr. Carmen had this nagging feeling that wouldn't go away. It was one that kept telling her that she could do more and help more people. She did a lot of soul-searching and decided to leave her career to return to school and become a Chiropractor. She says that it was the best decision of her life (aside from marrying her husband) and feels so fulfilled by helping others to live happier and healthier, drug-free lives.
---
Certifications:
Webster Technique (ICPA)
Advanced Proficiency Torque Release Technique (Holder Research Institute)
---
Education:
Doctorate - Palmer College of Chiropractic - Florida (Magna Cum Laude)
Bachelor's of Science, Hospitality Management - University of Central Florida
Co-Founder and Office Manager
Danny Nauth
Danny was born in Guyana and has since lived in Connecticut, New Jersey, New York, Florida, St. Kitts and Nevis. Danny graduated from Herzing University with a Bachelor of Science in Technology Management and Business Finance.
In the past 17 years, he's worked for high-end luxury hotels managing international teams and finance. Danny enjoys discovering new restaurants and familiarizing himself with Texas towns to hone his new skills as a real estate agent. When he's not helping around the office, he's helping families look for their forever homes. In his free time, he loves woodworking, food, anything tech, and spending time with his beautiful wife and two dogs.
Monday
9:30am - 1:00pm
3:00pm - 6:00pm
---
Tuesday
3:00pm - 6:00pm
---
Wednesday
9:30am - 1:00pm
3:00pm - 6:00pm
---
Thursday
9:30am - 1:00pm
3:00pm - 5:00pm
---
Friday
Closed
---
Saturday & Sunday
Closed